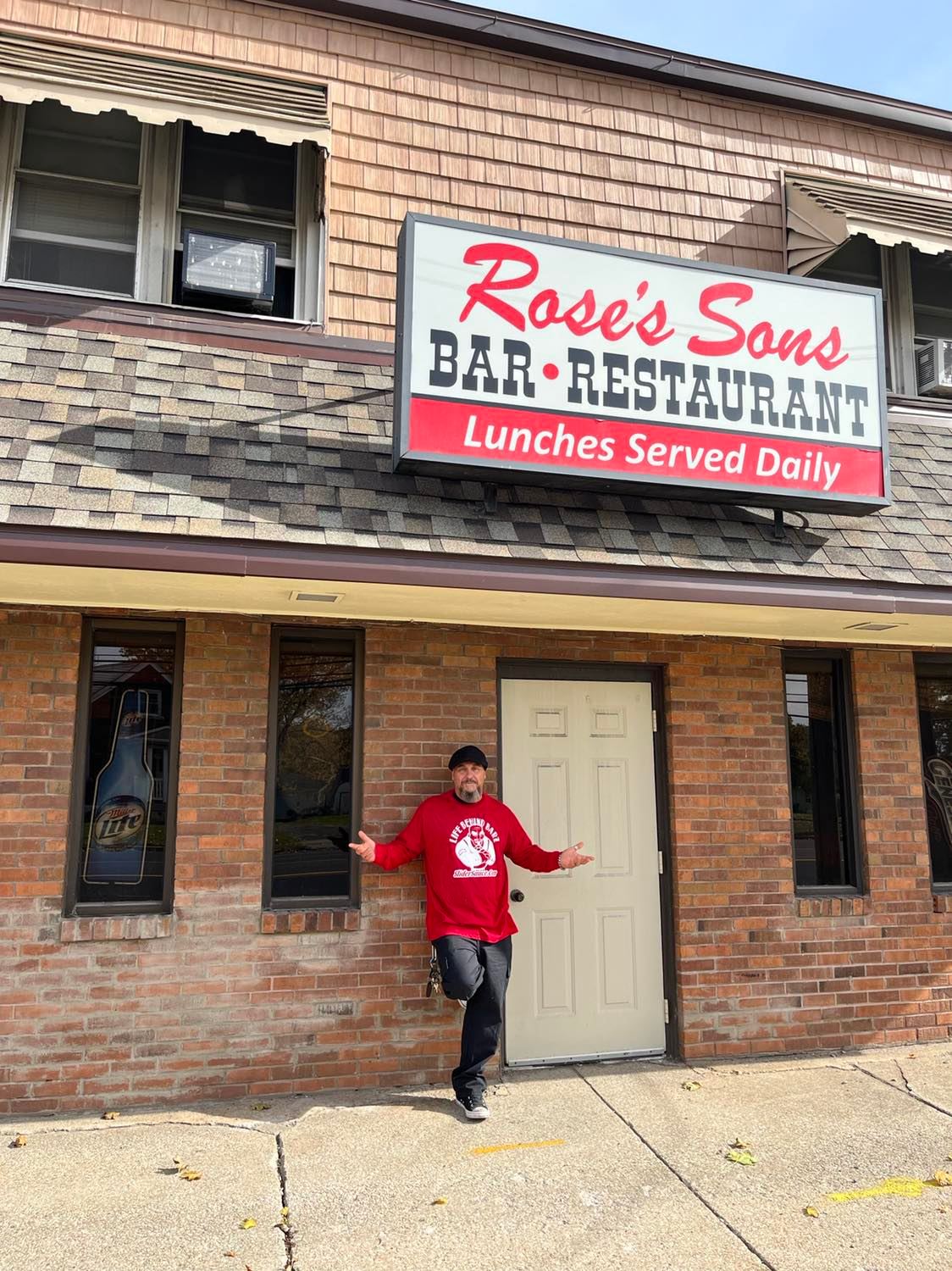 This is for everyone who's been asking where the new Mister M's location will be. Here's part of an article from Channel 2 WGRZ TV
Mister M's House of Food & Drink closed its doors this weekend at 2500 Military Road with plans to reopen in a few months at 2939 Hyde Park Blvd., where Rose's & Sons Bar & Restaurant closed a few weeks ago. "I want to build a more intimate dining experience," said owner John Martino. "I've got a really cool concept, something the city's never seen before. "When Rose's went up for sale, I purchased that. I wasn't sure what I was going to do with it, then I decided that I didn't want to work harder, I wanted to work less." Mister M's opened in leased space at the site in late 2019, offering pizza, wings, fingers, burgers, subs, and pasta dishes. It was the latest in a long list of hospitality businesses for Martino, who got his start at the family business in his 20s operating the former Kelly's Corner. He and his brother ran a few nightclubs in Niagara Falls, including the Shark Club and Devil's Hole, before taking over Mister B's Restaurant & Tavern at 2201 Hyde Park in 2003. Martino's family also ran the Meeting Place in Bergholz, and he and his wife, Cari, also had a five-year run with the Marlboro in Sanborn. They sold that business after a fire in 2014. "I've been in business for probably close to 30 years in the city," Martino said. "This will be the eighth restaurant, and hopefully the last." For the new Mister M's, Martino won't say exactly what that concept is quite yet. He's hoping to capitalize on the curiosity factor with his customers but says he'll keep the bar and dining room while adding a game room in the back with pool tables and dartboards. During the transition period, while he completes some renovations and waits on a new liquor license, Martino plans to use Rose's kitchen for his catering business. That includes taking care of his friends and former colleagues at the Niagara Falls Fire Department, where he retired after 21 years. When it reopens, the new Mister M's menu will include Italian food and a changing menu, something that he hopes will prompt people to ask, "Johnny, what's cooking?" He's also developed a private "Eat Like a King" group on Facebook with about 800 members where he'll promote what's coming next. "I'm going to keep the paper menu very small, and then whatever I cook that day or week will be on the chalkboard," he said.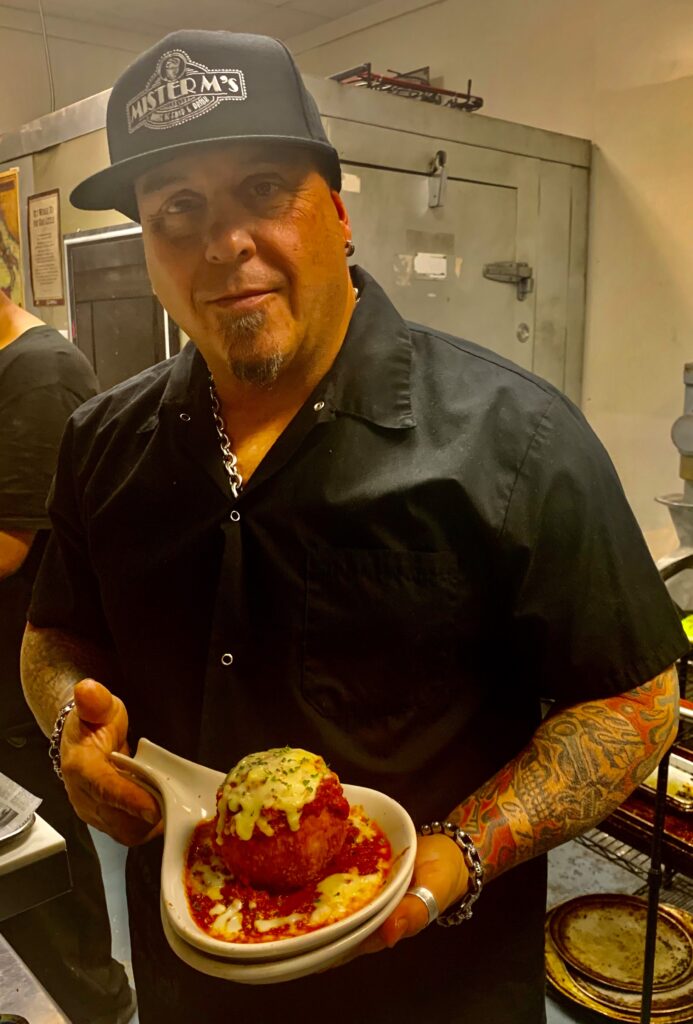 Our family has opened and operated many different restaurants/bars in the Niagara Falls area.  It all started over 30 years ago when our father, John Martino aka "Mister M" took over Kelly's Korner.  After that, we went on to Shark's Club, Devil's Hole, and The Meeting Place.  My wife Cari and I owned and operated The Marlboro Inn. I am the sole owner and operator of Mister B's Restaurant and now as a tribute to our dad, I opened Mister M's House of Food & Drink.  With the help of my family, we will work hard every day to make our dad proud by serving some of the best food and cocktails in Niagara Falls and the surrounding area. Johnny Martino - Live Hard.....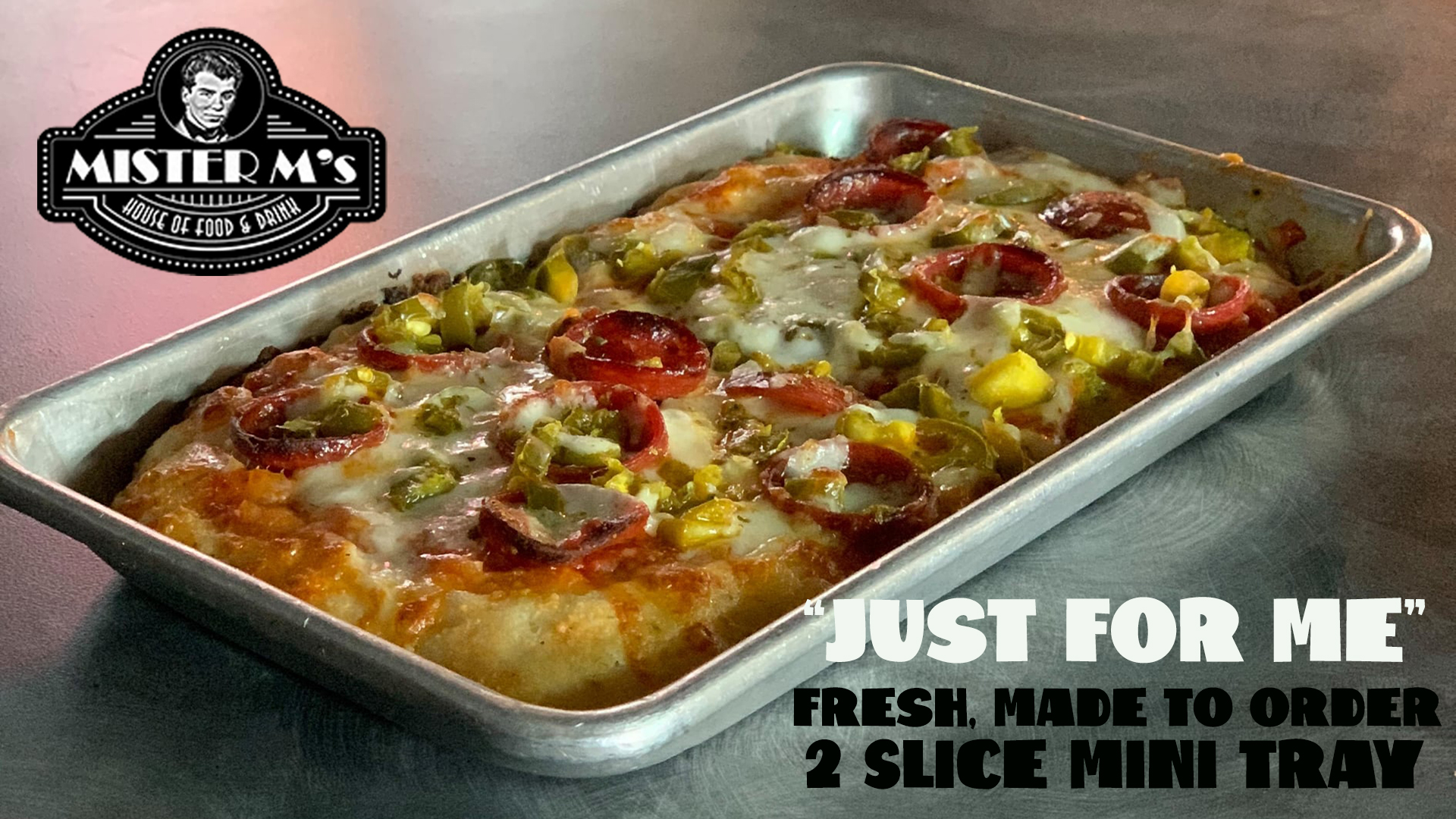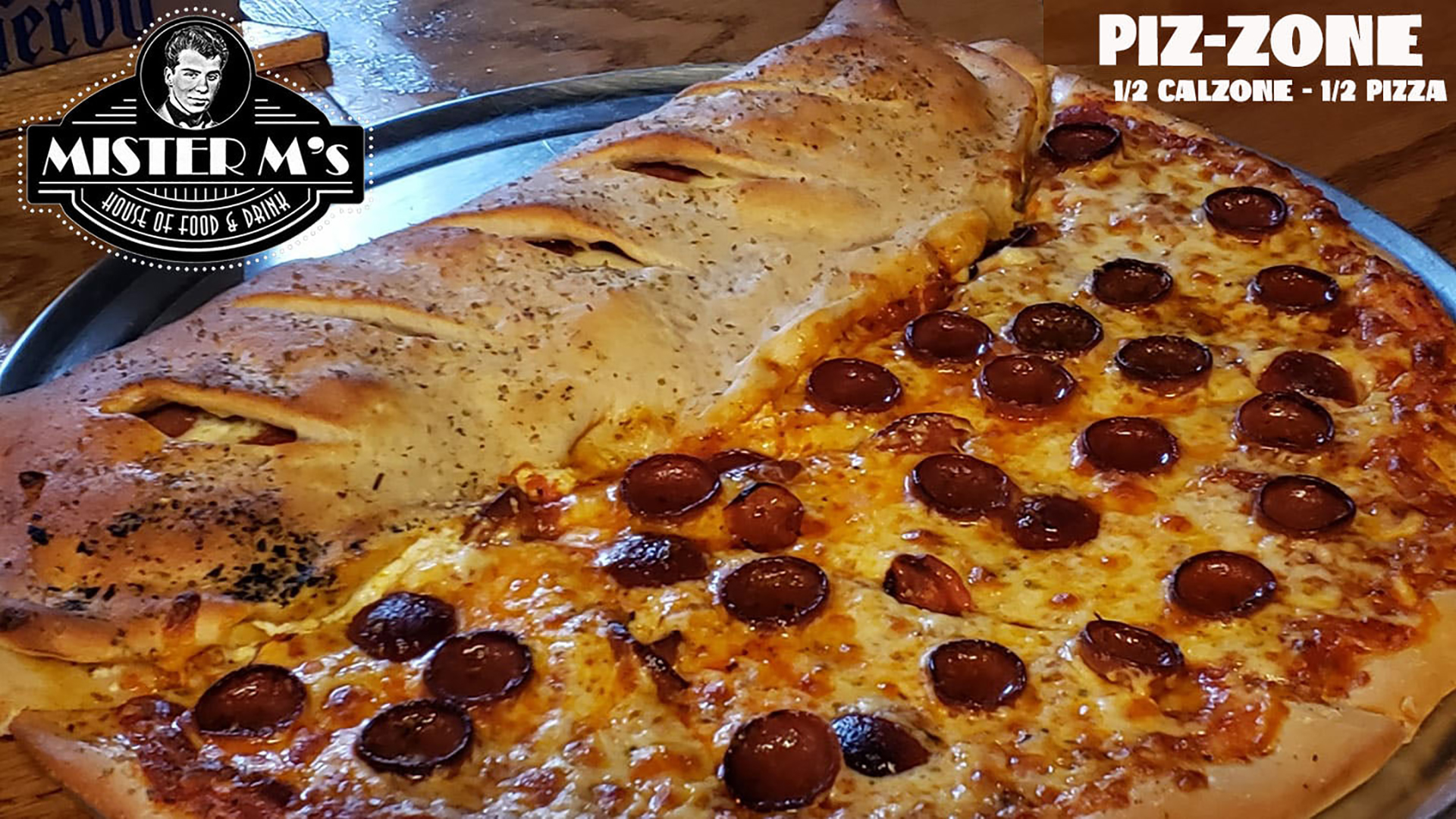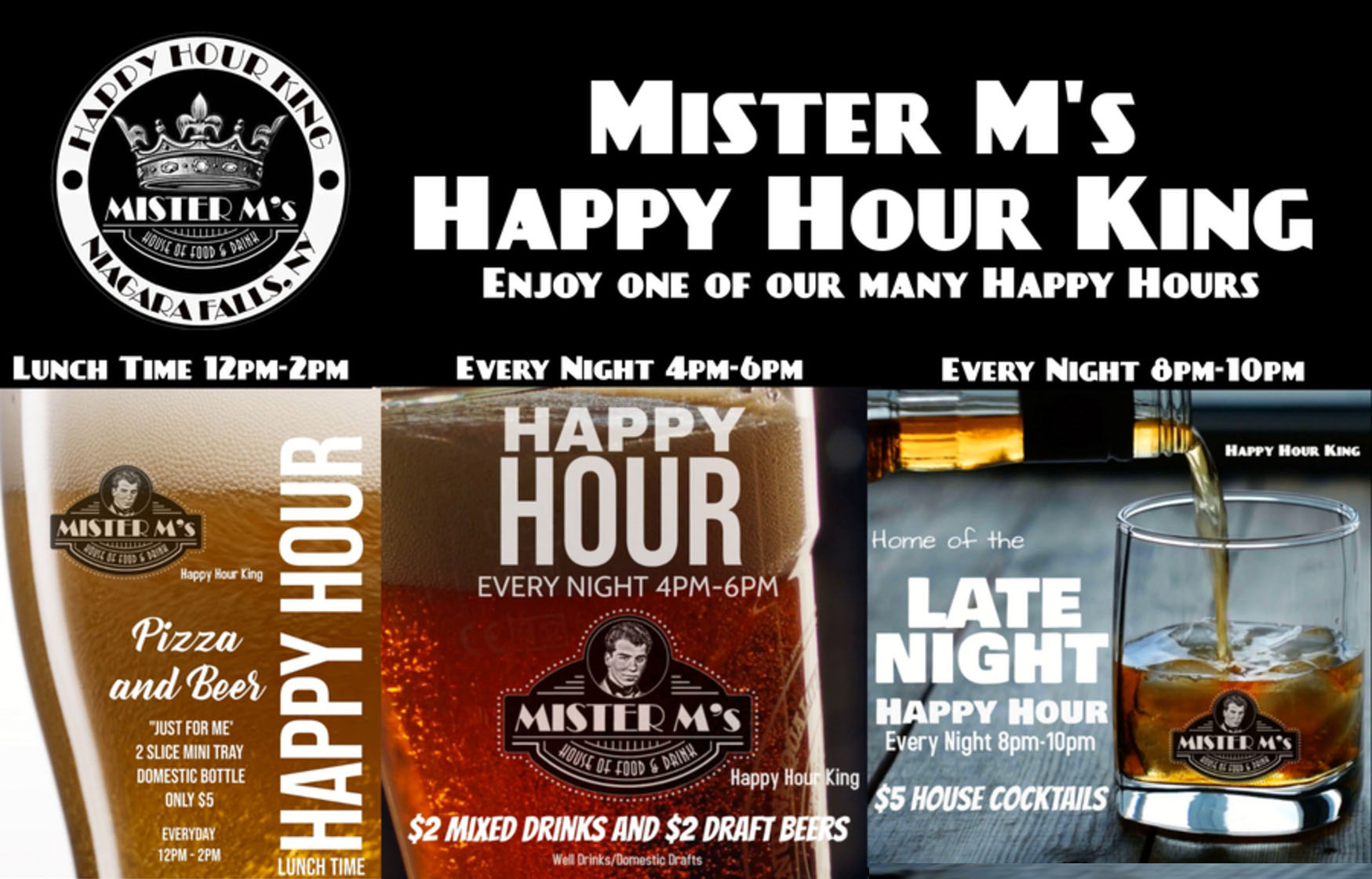 SOON TO BE FAMOUS,
"HAPPY HOUR KING "
Schedule your work/office Happy Hour Party with us, we will give you VIP treatment. We can customize your own personal Happy Hour - maybe you want a Wine with Cheese and Crackers Happy Hour or Whiskey with a Bucket of Bacon Happy Hour.
Call us for details 716-299-0505.
Make M's your place to be Happy after work.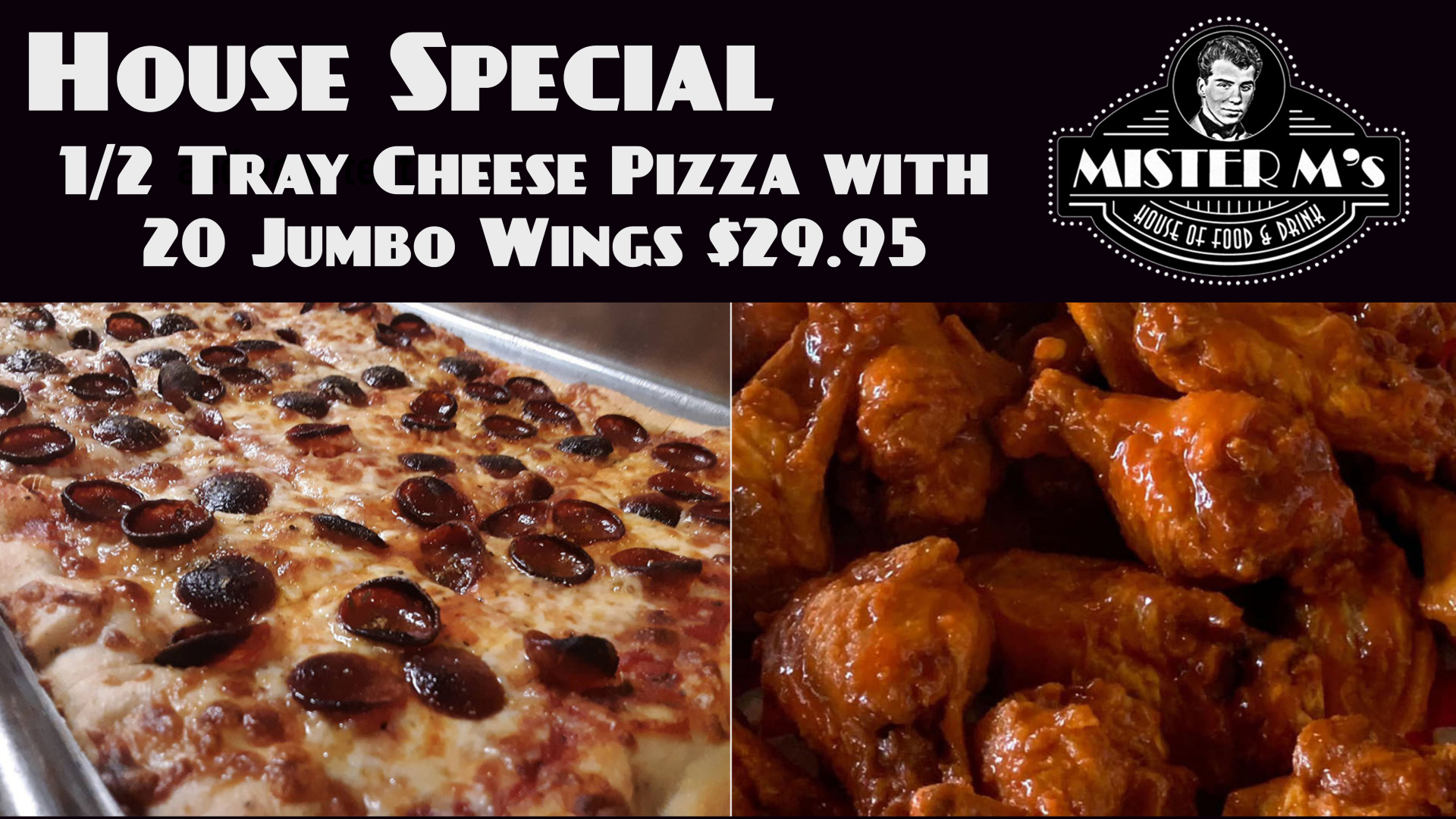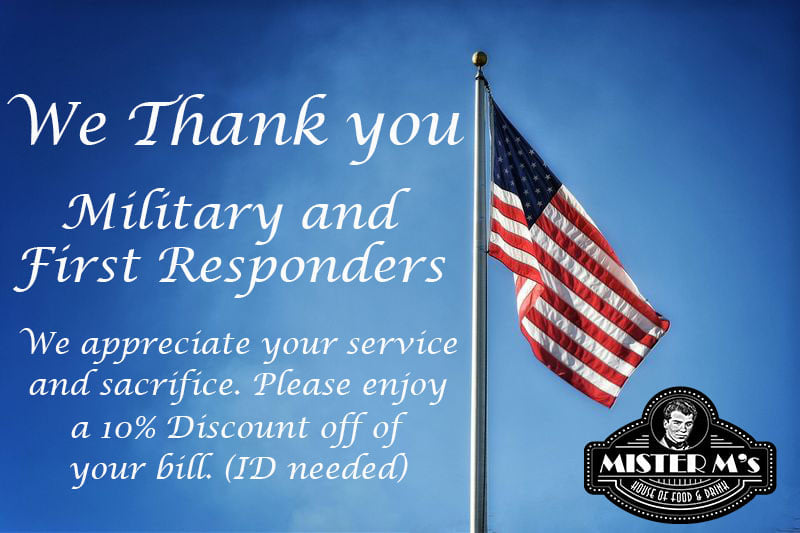 We are Thankful for all First Responders and Military Personnel (Active Duty and Veterans).
We know first hand how difficult, dangerous and also rewarding your job can be. This 10% discount is offered every day, not just for Holidays.

All prices subject to change
Opening Hours
| | |
| --- | --- |
| Monday - Saturday |  am -am |
| Sunday |  pm -  pm |
| |   |
Follow Us
You can follow Mister M's on facebook. News, contests and special offers are announced there.